Food & Drink
Best Places in West Hollywood to Cure a Hangover
The best way to recover from a bad hangover? Eat a great brunch.
---
Brunch is the best cure for any over-indulgence. Whether that be too much dancing or too much alcohol.
These are the best places in West Hollywood to cure any hangover.
Cheap breakfast food served all day with a family feeling of love and care. Sit on the patio and get a great view of the happenings on the Sunset Strip.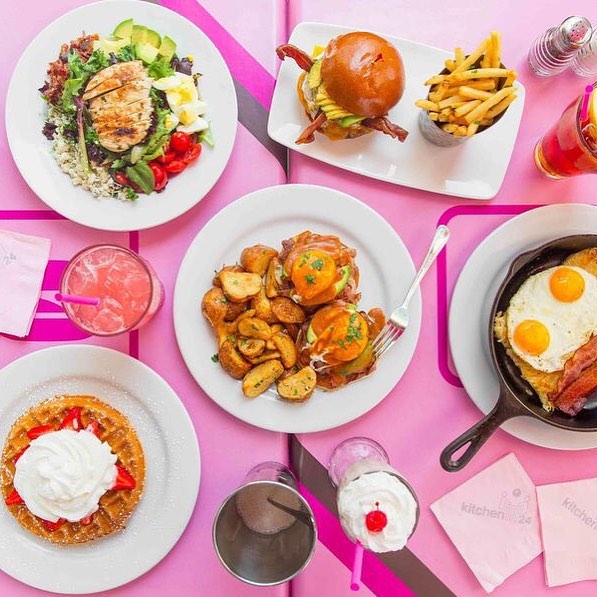 The longest happy hour in all of West Hollywood is sure to cure any hangover. Whether you wake up at 7am or 2pm, breakfast is served all day.
When you wake up and feel so disoriented about what day or year it is, the best thing to do is go to a '50s diner where all the greasy food is a savior.
Will a liquid breakfast consisting of bottomless mimosas and Bloody Marys cure your hangover? Try it if you dare. Their big menu will satisfy any hangover cravings, especially the chili.
Pizza is the answer to all the world's problems—even being hungover. Located just outside of West Hollywood, Vito's has some of the biggest servings of East-Coast pizza in the area, and if you can't bear to leave the house, they deliver!
Classic American greasy food that will soak up all the alcohol. Hamburgers and hot dogs in a train–if that doesn't fulfill a childhood dream, I don't know what will. The clientele won't judge you, so it's fine if you're still wearing the clothes you had on last night.
With ten different mimosas flavors to choose from, what could go wrong? Take in the fresh air while sitting on their patio and enjoying their huge menu.
With one of the most customizable menus in West Hollywood, everyone is sure to find exactly what they are yearning for. Hugo's is known for having a very veggie/GF/vegan-friendly menu. The almond energy pancakes are a great way to put a kick back in your step.
The smoothies and vegetarian options are a healthy way to satisfy hangover cravings while not hating yourself in the end.
The Abbey is known for being one of the most energetic bars in West Hollywood. Enjoy pitchers of mimosas and delicious food to cure your hangover.
This breakfast-only spot is fast, affordable, and delicious. This menu is a simplified version of their full menu at their main location. It's perfect for when you roll out of bed and want a quick satisfying breakfast.