Food & Drink
Guide to West Hollywood's Michelin-rated Restaurants and Hotels
In its latest California publication, the prestigious Michelin Guide recognizes four West Hollywood eateries and 11 hotels for culinary and hospitality excellence. Here's what you need to know.
---
Any visit to West Hollywood has always been a treat for the palate, and several of the city's diverse restaurants and hotels just got some well-deserved acclaim to underscore this point.
In the 2022 Michelin Guide California, four West Hollywood restaurants have been recognized for their culinary excellence, including Sushi Ginza Onodera, which retained its coveted two Michelin Stars. Statewide, 598 restaurants were highlighted in the 2022 selection, which designates different accolades at varying levels of acclaim. To put that total number into perspective, that's 598 restaurants throughout California – an elite selection, considering that Greater Los Angeles alone reports to have somewhere between 26,000 and 27,000 restaurants in its borders. So, it's a big deal to be featured at any level.
Not to be outdone by the restaurants, 11 West Hollywood hotels have also landed a plum spot in the 2022 Michelin Guide California. Put it all together and you have an exceptional, Michelin-approved stay in West Hollywood. Read on for a closer look at each hotel and restaurant included in this year's selection.
Michelin Guide Restaurant Selection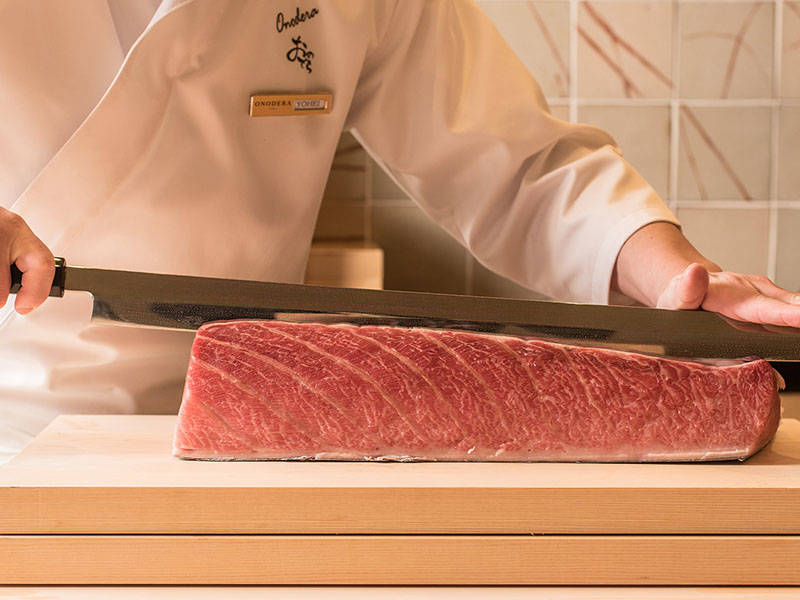 609 N. La Cienega Blvd.
2 Michelin Stars
One of the most respected names in the world of sushi, Sushi Ginza Onodera held onto its coveted two Stars in the 2022 Michelin Guide. From the elegant décor to the now-legendary dessert – the heavenly matcha- and coconut panna cotta – Sushi Ginza Onodera is a true feast for the senses. It has a price tag to match, but the restaurant's no-tipping policy makes it easier to swallow.
What Michelin says: "Surprises and delights abound in the delirious array of courses, starting with an earthenware cup of chawanmushi topped with Italian caviar and a petal of uni. Some might feel guilty devouring squid in a matter of seconds after watching the exacting chefs take ten minutes to prepare it, but the experience is utterly memorable."
8171 Santa Monica Blvd.
Michelin Recommended
Eclectic East- and West-Coast vibes mix here, where the "funky interior and seafaring knickknacks" pay homage to Chef Michael Cimarusti's New England roots. Expect an extensive raw bar and sustainable, wild-caught seafood sourced from both the Atlantic and Pacific oceans.
What Michelin says: "Chowder is a must for a seafood spot and this particular one offers a tempting flight of three: creamy New England, tomato-based Manhattan and buttery Rhode Island. The lobster roll, packed with tail and claw meat, is a gem among solo diners, while chilled seafood platters and the oak-grilled fish are great for crowds. Don't forget to grab a bit of saltwater taffy on your way out."
8905 Melrose Ave.
Michelin Recommended
"Plant-based darling," "airy and beguiling" and "astoundingly delicious" pepper the Guide's review of this vegan Melrose Mexican spot. The patio, surrounded by old shade trees, is a perfect spot for exploring the menu of 60 tequilas and 70 mezcals, or diving into the tacos that also grace the Michelin Guide to the Best Tacos in LA.
What Michelin says: "On the menu, explore Mexican cuisine through vegan items, like young coconut ceviche with house-made chips, pozole and grain bowls. The addictive tacos naturally feature top-quality tortillas, heaped with astoundingly delicious shredded jackfruit, lightly pickled cabbage and a drizzle of cashew crema. The prix-fixe lunch is of prodigious value."
9040 Sunset Blvd.
Michelin Recommended
New to the Michelin Guide is Ardor, the stylish in-house restaurant of The West Hollywood EDITION hotel. Vegetables take center stage on Chef John Fraser's menu, but carnivores will find plenty to love in Ardor's aged duck, high-end cuts of beef and lamb cooked under pine – all of which earned high marks from the Guide. Equally droolworthy are the tropical-chic interiors, which will make you feel like you're dining in an Architectural Digest spread come to life.
What Michelin says: "Set in a swanky hotel, this babe is ultra-chic, attracting an A-list crowd. It's all very handsome inside, with white velvet and leather booths nestled amid greenery for a rain forest feel. The well-trained staff keep things humming along."
Michelin Guide Hotels Selection
8440 Sunset Blvd.
Rated 17.7 out of 20 by verified guests
What Michelin says: "Fresh off a large-scale redesign at the hands of Dawson Design Associates, the updated Mondrian has done well to keep pace with the times. The tranquil California coastal vibe is gone, replaced by a fantastic, whimsical Alice-in-Wonderland atmosphere. It's not childlike, though — this is still the Sunset Strip, and the Mondrian is still one of its most exclusive spots. The Skybar's door is notoriously strict, and if you're in, you're either a hotel guest, or a star."
1020 N. San Vicente Blvd.
Rated 19 out of 20 by verified guests
What Michelin says: "Think of big-time luxury these days and you'll probably find you're thinking of New York and London — so it's only fitting that some of the best of what Los Angeles has to offer has roots in both. The London West Hollywood at Beverly Hills is the successor to the London NYC, bringing its trademark grown-up luxury to the Sunset Strip, courtesy of David Collins. The London isn't small, and neither are its 226 suites. Balconies and terraces are universal, and between the retro-influenced Collins-designed décor and the oversized spa-like bathrooms, they're more like pleasure palaces than hotel rooms — as decadent as the West Coast ought to be, and a fitting look for a hotel that's just a mile from Beverly Hills and Rodeo Drive."
8358 W Sunset Blvd.
Rated 18.7 out of 20 by verified guests
What Michelin says: "In Hollywood the line between history and kitsch is so fine as to be practically non-existent. But one way or another the Sunset Tower manages to land on the right side of the line. In the latter years of the golden age this Art Deco apartment tower was home to the likes of Marilyn Monroe and Frank Sinatra; and while today the mid-century atmosphere is still in place, it's no museum — there's nothing faded about the newly renovated Sunset Tower's sober, earth-toned interiors, and it's not collectors or autograph hounds but bona fide Hollywood players who frequent its halls today."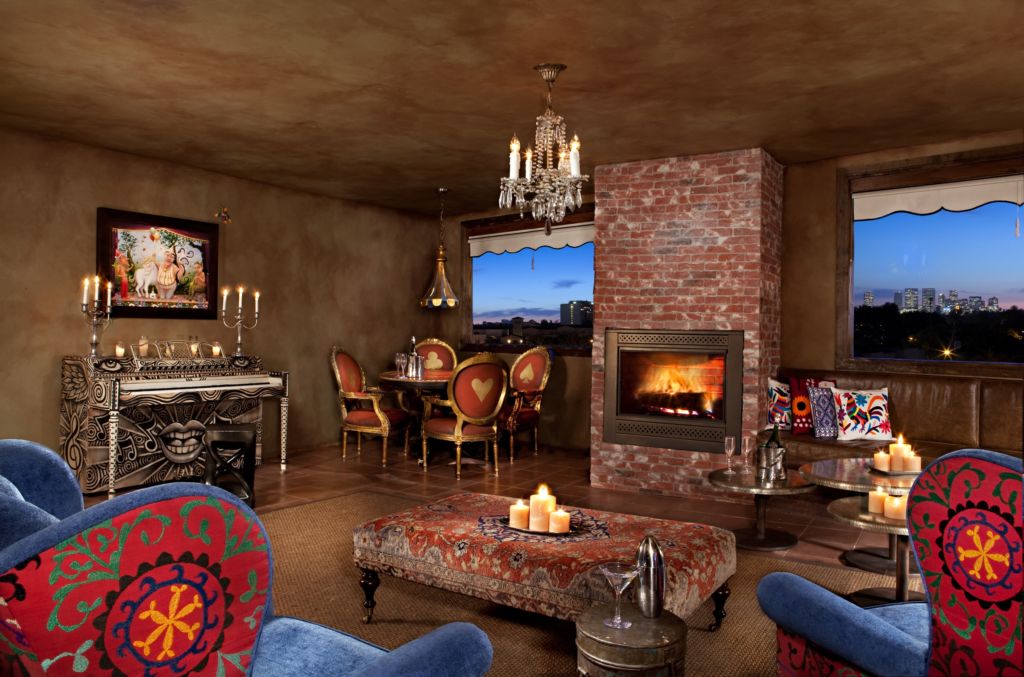 8822 Cynthia St.
Rated 18.2 out of 20 by verified guests
What Michelin says: "Though the reference is likely lost on some of its visitors, the Petit Ermitage isn't named for just any old hermitage. Here in the heart of West Hollywood is a boutique hotel that doubles as a tribute to Catherine the Great's Hermitage Museum in St. Petersburg (that's the one in Russia, but you knew that). Come for the heavy atmosphere of Tsarist decadence, and stay for the poolside cabanas."
819 N. Sweetzer Ave.
Rated 18.4 out of 20 by verified guests
What Michelin says: "This particular corner of West Hollywood has changed a bit over the years, to say the least, but back when Charlie Chaplin owned it this jumble of English-style bungalows fit right in to the pastoral landscape. Chaplin left LA over sixty years ago, of course, and it's a minor miracle that these houses still stand — but thanks to an enterprising hotelier, they do, in the form of the Charlie, a truly unusual boutique hotel. (We always mean that as a compliment.)"
1000 Westmount Dr.
Rated 17.8 out of 20 by verified guests
What Michelin says: "From the outside, this '70s apartment building doesn't attract much attention — though someday this architectural style will be back in fashion, at which time West Hollywood will be its Mecca. Inside, though, it's a different story; rooftop swimming pools, for example, are always in style, especially with panoramic views of LA and the Hollywood Hills, and the lobby sets the tone. The bedrooms are impressive as well — the interiors are striking, modern-luxe, perhaps more masculine in its blues and greys than some other SoCal boutiques. Each room, improbably enough, comes with a gas fireplace for when the temperature dips below 70…"
850 N San Vicente Blvd.
Rated 18.7 out of 20 by verified guests
What Michelin says: "If you've been to the Sunset Tower, then you'll agree that hotelier Jeff Klein has a track record with this sort of thing, and it's no surprise that news of his new Hotel 850 SVB West Hollywood at Beverly Hills, a residential-style luxury boutique hotel in West Hollywood, has met with much enthusiasm. It's set in (and behind) a century-old bungalow on San Vicente Boulevard, just off Santa Monica, in a slightly paradoxical location — it's a residential street, but it's barely a block from the Pacific Design Center in one direction and the Sunset Strip in the other. With just 23 rooms and suites it's aiming for an atmosphere that's even more private than the Tower, and the accommodations are impressively luxe and quite stylish, in a welcoming, low-key way."
9040 Sunset Blvd.
Rated 20 out of 20 by verified guests
What Michelin says: "The Edition hotels find one-time party king Ian Schrager in a more relaxed, mature mode, but the West Hollywood Edition is a reminder that "mellow Schrager" is, for most of us, still quite a party. Rooms are beautifully luxe and visually sparse, with views of the city or the Hollywood Hills; the British architect John Pawson brings an upscale gravity to modernist-friendly Southern California. It's positioned, both literally and metaphorically, where the Sunset Strip meets Beverly Hills, and its restaurant, rooftop lounge, lobby bar, and subterranean nightclub suitably straddle the line between refinement and decadence, while the spa prepares you to do it all again the very next night."
8430 Sunset Blvd.
Rated 19.8 out of 20 by verified guests
What Michelin says: "There's no one location in Los Angeles that captures the appeal of the whole city, but the Sunset Strip comes close — Hollywood glamour, rock-and-roll decadence, spectacularly set against the backdrop of the hills. The Pendry West Hollywood takes up a whole block along Sunset, and it needs every square foot; the Pendry contains not just 149 rooms and suites, but a spa, a pair of Wolfgang Puck restaurants, a members' club, a 100-seat music venue, and even a bowling alley."
900 Hammond St.
Rated 16.8 out of 20 by verified guests
What Michelin says: "It simply shouldn't be possible for some of the world's most storied nightlife to exist just a couple of blocks from a genuinely quiet neighborhood, but West Hollywood is proof that it can happen — and the Montrose West Hollywood, tucked into a residential street three blocks south of the Sunset Strip, makes the most of this contrast. It's an all-suite, residential-style hotel, and while its recent interior-design makeover leaves it looking stylish, it's not a 24/7 nightspot like some boutique hotels. (And with bars and nightclubs like Rage and the Viper Room a few blocks away, it certainly doesn't need to be.)"
733 N West Knoll Dr.
Rated 16.3 out of 20 by verified guests
What Michelin says: "West Hollywood's Design District is a unique corner of Los Angeles, a little triangular oasis surrounded by some of the best shops, restaurants, and nightlife in the city. Le Parc at Melrose is set on a residential street between Melrose and Santa Monica Boulevard, and occupies a relatively unassuming converted apartment building. Inside, however, are suites that marry residential spaciousness and comforts with boutique-hotel good looks."