---
West Hollywood has become one of LA's premier shopping hubs, on par with iconic destinations like Rodeo Drive and the Beverly Center. Interior designers buzz around the Design District to source one-of-a-kind treasures from shops and showrooms, while fashionistas and celebrities flock to the cutting-edge boutiques along Melrose, Robertson and Sunset.
No matter who or what you're shopping for, you'll find everything from independent designers to international brands in West Hollywood. Here's your guide.
Fashion & Accessories
H. Lorenzo
Multiple locations
With one of the most celebrated eyes for style in the industry, LA-based H. Lorenzo has a cult following among Los Angelenos in-the-know. Three locations in WeHo offer three very different shopping experiences: Men's and women's goods are divided among two stores in Sunset Plaza, H. Lorenzo Women and H. Lorenzo Men, while H. Lorenzo on Robertson showcases streetwear and emerging designers.
Fred Segal
8500 Sunset Blvd., West Hollywood, CA 90069
This 21,000-square-foot retail concept, with its series of interconnected boutiques, is a retail right of passage. From books and baked goods to flowers, unique fashions and the latest health and fitness gear, you'll find something for everyone on your list at Fred Segal on Sunset. The store also offers concierge services, including personal shopping and gift wrapping.
Ulla Johnson
8823 Beverly Blvd., West Hollywood, CA 90048
Opened in October 2023, this gorgeous, brass-trimmed boutique on Beverly is Ulla Johnson's first West Coast location. Shop ready-to-wear apparel, jewelry, bags, shoes and swimwear, as well as a special line of made-in-LA denim and limited-edition pieces designed exclusively for the store.
Roseark
1111 N. Crescent Heights Blvd., West Hollywood, CA 90046
Jewelry always makes a great gift, whether for yourself or someone else. Celeb-favorite Roseark (Rihanna and Doja Cat are known to shop here) playfully blends high- and low-brow—from chunky tourmaline rings in candy colors to charm bracelets made of 14K gold. Don't miss the kitschy acrylic heart necklaces set with diamonds; Julia Roberts is a fan!
Ganni
9004 Melrose Ave., West Hollywood, CA 90069
Danish brand Ganni has come to define It Girl fashion for the 21st century. Offering trendy, high-quality clothing, bags and accessories at accessible prices, this aesthetically pleasing store is the perfect place to pick something up for your favorite fashionista.
Acne Studios
8920 Melrose Ave., West Hollywood, CA 90069
Less than a block from Ganni is another Scandi favorite, Acne Studios. What makes this shop special—beyond the timeless-yet-trendy men's and women's fashions—is the bespoke shopping experience. Book an appointment in advance on Acne's website to have a dedicated client advisor help you find exactly what you're looking for.
Kith
8500 Sunset Blvd., West Hollywood, CA 90069
If such a thing as destination shopping exists, this is it. Adjoining Fred Segal, the Los Angeles flagship store of modern fashion brand Kith is a legit architectural marvel (it was designed by the firm Snarkitecture). Brass clothes racks, live plants and Air Jordans drip from the concrete ceilings, and a slatted glass enclosure creates a monument to footwear (which is where Kith got its start). Don't miss the Kith Treats cereal bar for a bowl of breakfast cereal or ice cream!
The RealReal
8500 Melrose Ave., West Hollywood, CA 90069
It might seem odd to pick up a gift at a consignment store, but The RealReal specializes exclusively in luxury goods, including designer handbags, clothing, watches, art and home goods. In-house professionals ensure that every item is authentic and in excellent condition, making this the ideal shop to find an eclectic and incredible gift for someone special. The shop also has a cafe where you can refuel before continuing your day of shopping.
James Perse
8914 Melrose Ave., West Hollywood, CA 90069
Designer James Perse has more than 30 stores around the country, but this location on Melrose is where it all started. Shop his high-quality, made-in-the-USA women's apparel, including dresses, sweaters and jackets.
Maxfield
8825 Melrose Ave., West Hollywood, CA 90069
This super-eclectic collective owned by Tommy Perse (the father of James Perse) is one of West Hollywood's iconic shopping destinations. For the ultimate fashionista or your favorite art collector, elite names in fashion and one-of-a-kind and/or vintage pieces abound in a number of categories at Maxfield, from vintage Rolexes to new bags by Valentino and even an illustrated book by Andy Warhol.
Jenni Kayne
614 N. Almont Dr., West Hollywood, CA 90069
Since launching her fashion brand in 2003, Jenni Kayne's relaxed-yet-refined apparel has come to define modern SoCal style. You can shop a curated edit of her signature apparel here, as well as an extensive selection from Jenni Kayne Home.
BAPE
8810 Melrose Ave., West Hollywood, CA 90069
Tokyo-born A Bathing Ape (BAPE for short) is the destination for men's, women's and children's streetwear—from cool sneaks to puffer coats so stylish you'll want to seek colder climes (hey, Big Bear Lake is only a couple of hours away).
Clare V.
619 N. Croft Ave, West Hollywood, CA 90048
Designer Clare Vivier creates the most giftable handbags, pouches, accessories and apparel. Available in a variety of bright colors to suit any style, they're on display in this gorgeous shop just across the street from Melrose Alley.
Home Furnishings & Décor
Atacama Home
8627 Melrose Ave., West Hollywood, CA 90069
Atacama Home is a great store for every budget, because owner Julia Camaro Calvo sources a diversity of wonderful objects from makers around the globe. Think handwoven placemats and coasters from Colombia, whimsical ceramic teapots from Portugal, and mohair throw blankets from Spain. This is one store you won't be able to leave empty-handed.
Grande Maison de Blanc
8923 Beverly Blvd., West Hollywood, CA 90048
Who doesn't love slipping into a new set of premium linen sheets? Legna, Letto and Matouk are among the Italian-made brands you'll find at Grande Maison de Blanc, which also sells towels and other fine home textiles.
Boundary
400 N. Robertson Blvd., West Hollywood, CA 90048
A favorite of interior designers, this high-end shop is the exclusive West Coast purveyor of international furnishing lines such as Atelier Areti, Delcourt Collection and Dimore Milano. Serious aesthetes, Boundary is for you.
RH West Hollywood
8564 Melrose Ave., West Hollywood, CA 90069
Even if you've been to a dozen Restoration Hardware stores, this one is worth a pilgrimage. The massive space (an entire city block!) offers three floors of shopping, but saves the best for the rooftop. Head up to take a shopping break on a cushy couch amid trees and greenery, with wonderful views of the Design District.
Candle Delirium
7980 Santa Monica Blvd., West Hollywood, CA 90046
A nice candle is a time-tested gift and the perfect finishing touch for any room. Candle Delirium has a huge selection of all manner of scents, colors and sizes, in addition to oils, room sprays, soaps and more. Feel free to let your nose do the browsing at this aromatic shop.
Books & Gifts
Book Soup
8818 Sunset Blvd., West Hollywood, CA 90069
Since 1975, Book Soup has touted itself as "Bookseller to the Great and Infamous." Loved by locals and tourists alike, this is a stalwart for a great spine-chiller, coffee table book or a rather serious indulgence, from Dickens to Faulkner. There are more than 60,000 titles inside, as well as a great selection of magazines, comics and international newspapers.
Mystery Pier
8826 Sunset Blvd., West Hollywood, CA 90069
This hole-in-the-wall is known worldwide for its impressive selection of first-edition books. Its celebrity following includes Daniel Craig, Oprah Winfrey and Guillermo del Toro, and Michael Caine himself said that Mystery Pier "is like the most wonderful museum, except you get to buy the exhibits." An absolute must for book lovers and collectors.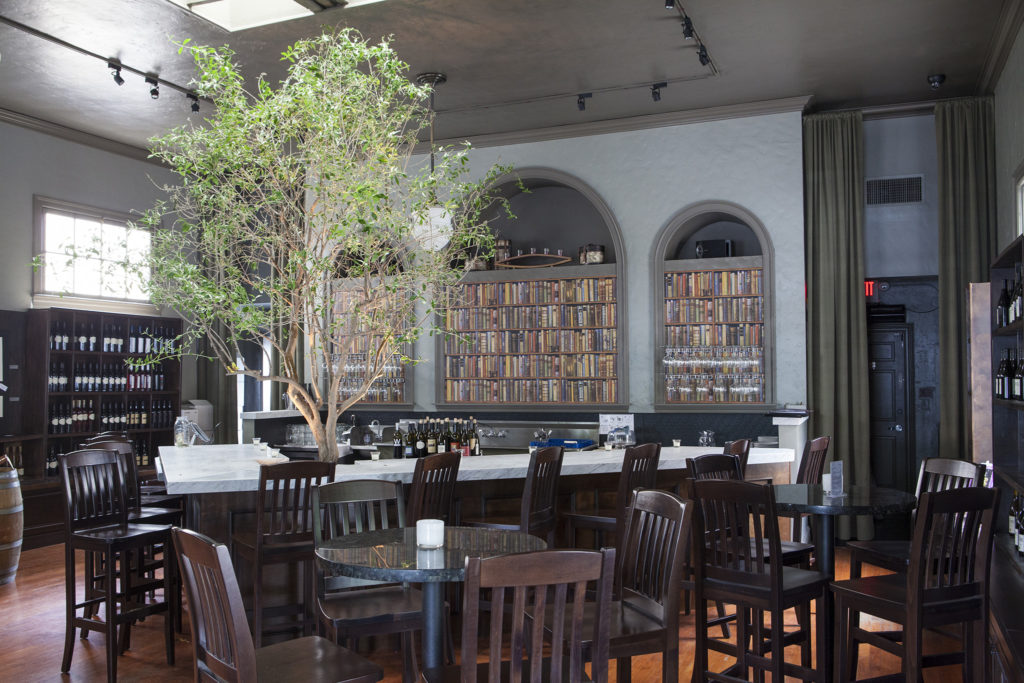 Wine & Food
V Wine Room
903 Westbourne Dr., West Hollywood, CA 90069
For an afternoon of sipping and shopping, stop by V Wine Room. This stunning-yet-cozy wine bar offers an array of carefully curated wines that make perfect gifts for the oenophiles in your life. The owner has deep connections in the wine world and, as such, you'll find moderately priced bottles with cool backstories. The enthusiastic staff is happy to highlight labels that make thoughtful gifts for friends.
Boutellier
8500 W. Sunset Blvd., Suite C, West Hollywood, CA 90069
This shop-within-a-restaurant (it's located inside the excellent Tesse) is the place to source hard-to-find selections from the world's best wine regions. If you've ever enjoyed dinner and a glass of wine at Tesse, you'll know you're in good hands at Boutellier.
Zinc Cafe & Market
8607 Melrose Ave., West Hollywood, CA 90069
You could sit down for lunch or brunch at this chic Design District eatery, but the retail side of Zinc Cafe & Market is also a great place to pick up gifts for foodie friends. Think handcrafted breadboards, cookbooks, kitchen accessories and pantry items made in-house.
Toiro
1257 N. La Brea Ave., West Hollywood, CA 90038
For the home cook who has everything, this minimalistic-yet-warm shop specializes in donabe, a clay pot used in Japanese cooking. Toiro also sells a curated selection of table- and drinkware, tea supplies and kitchen accessories at a wide price range.
Health & Beauty
Glossier
8523 Melrose Ave., West Hollywood, CA 90069
This palace of millennial pink needs no introduction. Glossier's sleek, shiny flagship on Melrose quickly became a beauty destination when it opened in 2021. Beauty lovers could get lost exploring the store's made-for-Instagram displays and try-on stations. While you're there, take a pause at Glossier Alley, where you can order a Glossier Pink Latte at Alfred Coffee.
Byredo
8920 Melrose Ave., West Hollywood, CA 90069
Stockholm-based Byredo isn't always the easiest brand to find in the U.S., which is partly what makes its West Hollywood shop so coveted among fragrance heads. Stock up on signature scents like the ever-popular Bal d'Afrique and cult-favorite Gypsy Water, or find a limited-edition release for the perfume lover in your life.
Tech & Gadgets
Bang & Olufsen
106 N. Robertson Blvd., West Hollywood, CA 90048
For home audio gadgets that look as good as they sound, Bang & Olufsen is the ultimate shopping destination for music lovers. Find everything from giftable wireless earbuds and travel-friendly speakers to cutting-edge home sound systems.
Leica Store & Gallery
8783 Beverly Blvd., West Hollywood, CA 90048
If you're a photography fan (or know one), carve out an afternoon to wander the largest Leica store in North America. Here you'll find cameras and accessories for photographers of every level, from amateur to professional, plus photography books, Leica merch, and a gallery to fuel your inspiration.
---
Shopping Districts
Great shopping is spread across West Hollywood, but there are a few must-visit shopping destinations where you could spend a solid day indulging in retail therapy.
West Hollywood Design District
The Design District encompasses so many shops, showrooms and other businesses that it now contains two distinct shopping corridors within its boundaries:
Melrose Avenue Shopping District
Roughly spanning Melrose between 2nd Street and 7th Avenue, this walkable stretch features shop after amazing shop—including many on this list.
Robertson Boulevard
Just around the corner from Melrose, treat yourself to a stroll between Santa Monica Boulevard and Beverly Boulevard to window-shop (or shop-shop) dozens of well-established fashion and beauty retailers, like Alice + Olivia, Vince, MAC Cosmetics and Curve.
Sunset Plaza
A mix of around 50 shops, restaurants and beauty businesses, Sunset Plaza offers some of the best shopping on the Sunset Strip. Don't miss the iconic Boot Star, where Western fashion meets rock 'n' roll, or high-end boutiques like Zadig & Voltaire, H. Lorenzo and Badgley Mischka.
Jenny Adams contributed to this article.