Food & Drink
13 Essential West Hollywood Sushi Bars
The best sushi spots for every type of sushi fan.
---
West Hollywood's best sushi restaurants run the gamut, meaning sushi connoisseurs, neophytes and adventurers will all find a restaurant to sate their appetites. Just remember that because the fish market is closed on Sundays, many sushi spots are, too! 
Here's your guide to the essential sushi bars in West Hollywood.
Sushi Park
8539 Sunset Blvd. #20, West Hollywood, CA 90069
(310) 652-0523
The most traditional kind of sushi you'll find anywhere in West Hollywood with none of the distractions, décor- or food-wise (okay, there is a TV screen here). Expect sashimi and nigiri, and do order the omakase while minding the five-dish minimum. Every piece melts deliciously on your tongue.
Best for: Traditionalists
Sushiya on Sunset
8650 Sunset Blvd., West Hollywood, CA 90069
(310) 659-9804 | sushiyaonsunset.net
This Sunset Plaza institution combines sushi and traditional Japanese dishes with Asian fusion fare. Open until 12:30 a.m. on weekends, Sushiya is a favorite of the post-show crowd. Don't miss their spin on spicy tuna crispy rice, topped with caviar, avocado, jalapeño and truffle oil. Keep your eyes peeled for celebs like Rihanna and Stevie Wonder—just two of the many stars who have dined here over the years.
Best for: Late-night sushi cravings
Toku Unagi & Sushi
1106 N. La Cienega Blvd. #201, West Hollywood, CA
(310) 854-7285 | tokuusa.com
Eel restaurants, a staple in Japan, haven't caught on with American diners in the same way sushi has. After visiting Toku Unagi & Sushi, you'll wonder why that is. The unagi is imported from Japan, slathered in sauce, broiled to a satisfying golden-brown glaze and served over rice in heavy decorative vessels. And while eel is the main attraction here, don't overlook the excellent sushi, which you can order omakase or a la carte. 
Best for: Eel-lovers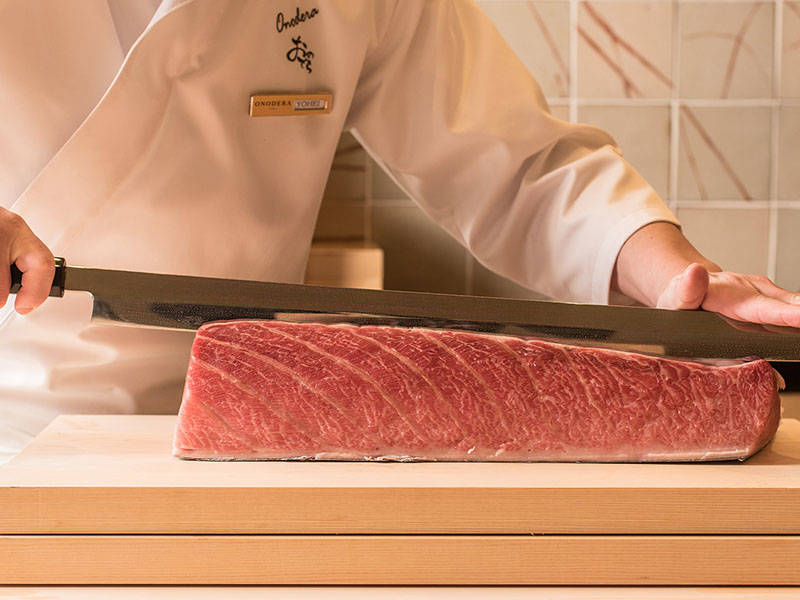 Sushi Ginza Onodera
609 La Cienega Blvd., West Hollywood, CA 90069
(323) 792-7776 | sushiginzaonoderala.com
Based in Tokyo and with just one other U.S. location, Sushi Ginza Onodera is the true definition of a destination dining experience. Like many sushi bars in Japan, the small, stripped-down dining room consists of one row of seats that deservedly put the attention on chef Yohei Matsuki, whose super-high-end omakase menu holds a coveted two Michelin stars.
Best for: Sushi aficionados looking for a splurge
Best for: Creative sushi in a trendy setting
Niki Niko Sushi
8457 Santa Monica Blvd., West Hollywood, CA 90069
(323) 654-6200 | nikosushiweho.com
At Niko Niko, find ginormous slices of raw fish and wild rolls to satisfy your hunger for Americanized sushi. Need we say more?
Best for: Everyday, budget-friendly sushi
Sachi Sushi
8730 Santa Monica Blvd. # F, West Hollywood, CA 90069
(424) 302-0202 | sachisushila.com
At Sachi Sushi, you'll find all your favorite traditional sushi rolls and sashimi cuts, as well as donburi and omakase. And for people who aren't keen on sushi, the menu also includes udon noodle bowls, salads and tempura appetizers.
Best for: Great sushi in an unassuming package
Katana
8439 W. Sunset Blvd., West Hollywood, CA 90069
(323) 650-8585 | katanarobata.com/locations/west-hollywood
Stumbling distance from trendy hotels like the Hotel Ziggy, Mondrian Los Angeles and Pendry West Hollywood, Katana boasts the grandest of entrances on Sunset Boulevard, with a double staircase that leads to a Japanese-inspired dining room and sun-filled back patio. Put yourself into chef's hands with the Izakaya Feast, or fill your table with plates from the expansive Asian-fusion menu, which includes everything from garlic lobster noodles to tuna carpaccio with wasabi soy truffle oil and shaved parmesan. Katana's playful cocktails, like the Matcha Made in Heaven, are a big draw, too.
Best for: Those staying on the Sunset Strip
Ta-Ke Sushi Restaurant
8866 Sunset Blvd., West Hollywood, CA 90069
Across the street from Whisky A Go Go and just a few doors down from the Viper Room, Ta-Ke is an unexpected delight in the hard-rocking heart of the Sunset Strip. With its cozy bar and dangling lanterns, it feels a lot like the hole-in-the-wall sushi spots in Japan that always serve the best fish. And Ta-Ke doesn't disappoint; the seafood is ultra-fresh, from the albacore sashimi to the red snapper sushi.
Best for: Authentic Japanese sushi bar vibes