Hotels
Rock and Roll meets Artistic Elegance at Andaz West Hollywood
---
Old time rock n' roll flair meshes with modern chic at the Andaz West Hollywood, making it one of the most unique and exciting places to stay in WeHo.
Formerly called the Hyatt House, the 14-story, 239-room hotel has been The Andaz since 2009, when it underwent a significant renovation by Hyatt Hotels and Resorts. Rooms boast a comfy minimalism, with in-room snacks and free wifi, while deluxe suites offer sunroom balconies and inspired décor—check out the colorful Andaz (Red) suite, styled by renowned designer Jonathan Adler.
We caught up with Executive Chef Justin Taylor at Riot House Restaurant in The Andaz. Check out how he combines the property's musical heritage and artistic leanings to create some fantastic dishes:
What to Expect
You'll want to lounge poolside on Andaz's rooftop, one of the highest and hottest in West Hollywood, with its stylish cabanas and a panoramic view of the entire city. There's always something going on at the hotel, whether it poolside, or within its 13,000 square feet events space where private and public gatherings and soirees take place (often related to the entertainment industry due to its vicinity). The best part? All guests enjoy a nightly wine hour.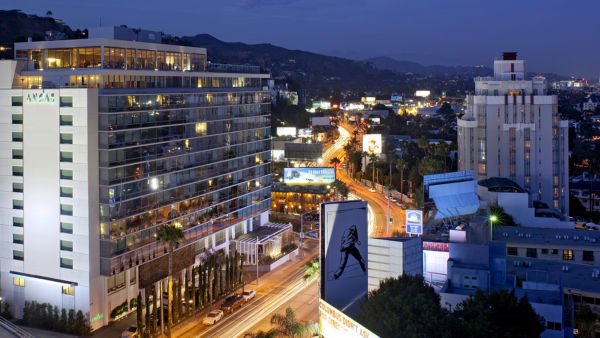 Sunset Strip
Andaz West Hollywood
8401 Sunset Boulevard
West Hollywood, CA 90069
323-656-1234
"Art Seen" Exhibit Series
The hotel's revolving and evolving exhibit series, called "Art Seen," presents a gallery-like experience featuring some of the city's best known artists' work on display and for sale. An 11-foot metal sculpture by renowned New York-based artist Jacob Hashimoto greets visitors upon entry, while murals and more artful touches embellish the spacious lobby area, recalling the building's bodacious past.
"The Riot House"
And it's a storied past indeed. Andaz was known as "The Riot House," in the 60s and 70s, with touring rock groups including The Rolling Stones, Led Zeppelin, The Who and The Doors all staying there regularly, throwing wild parties (and various furnishings off the balconies), often trashing the rooms and racking up bills that only rockstars could afford. Led Zep drummer John Bonham allegedly rode his motorcycle through the halls, while Jim Morrison was once thrown out for drunkenly dangling himself out his room window, for which a glass panel in the old hotel once read "Come on baby, light my fire. Try to set the night on fire." The Doors, 1967."
A Decadent Dining Destination
The Andaz's restaurant and bar, Riot House, references its hedonistic history, in name and in its eclectic menu with fresh Southern California-inspired seasonal cuisine, tasty light bites and craft cocktails all created in an open-kitchen space. Offering both private and communal tables for mixing and sharing, it's a subtly decadent dining destination.  But if you're looking for an even livelier scene, it's right outside the hotel doors. Andaz is located in the heart of Sunset Strip, with copious clusters of clubs, bars and restaurants easy walking distance away, including the world famous Comedy Store, campy retro restaurant Mel's Diner, and renowned live music venues The Viper Room, The Whiskey a Go Go and The Roxy theatre.
Book your Room at The Andaz