---
Halloween is the biggest night of the year in West Hollywood, thanks to the famous West Hollywood Halloween Carnaval, which returns from a four-year hiatus in 2023. But that event is far from the only reason to celebrate spooky season in WeHo. From '70s-themed disco parties to spooky rooftop movies to creepy Sunset Strip bar crawls, grab your costumes, wigs and masks and head to West Hollywood for a frightfully fun Halloween.
Scary Movie Month at Melrose Rooftop Theatre
October 1–31, 2023
Melrose Rooftop Theatre, 603 N. La Cienega Blvd., West Hollywood, CA 90069
What's Halloween without a few spooky movies? Nestled in the West Hollywood Design District, the Melrose Rooftop Theatre offers a unique outdoor cinematic experience that utilizes wireless technology and individual headsets to provide viewers with chillingly clear audio. Throughout October, dozens of Halloween favorites will be screened on the rooftop, including Practical Magic, Scream, Get Out, Nightmare on Elm Street, Ghostbusters and many more, culminating in a Hocus Pocus dress-up event on Halloween night.
Visitors can purchase general admission tickets for $25, or splurge on the $109 Dinner + Movie for Two, which includes a three-course meal and two cushy bean bag chairs. Attendees must be 21+. More info.
Howl-O-Ween Pet Costume Showcase
October 7, 2023
West Hollywood Park, 647 N. San Vicente Blvd., West Hollywood, CA 90069
Presented by the City of West Hollywood's Recreation Services Division, the first-ever Howl-O-Ween Pet Showcase will include a parade for pets, live music, pet trick/obstacle course and a pet-friendly bubble zone. Costumes are encouraged for both pets and owners! This free event will take place 11 a.m.–1 p.m. on the Great Lawn at West Hollywood Park.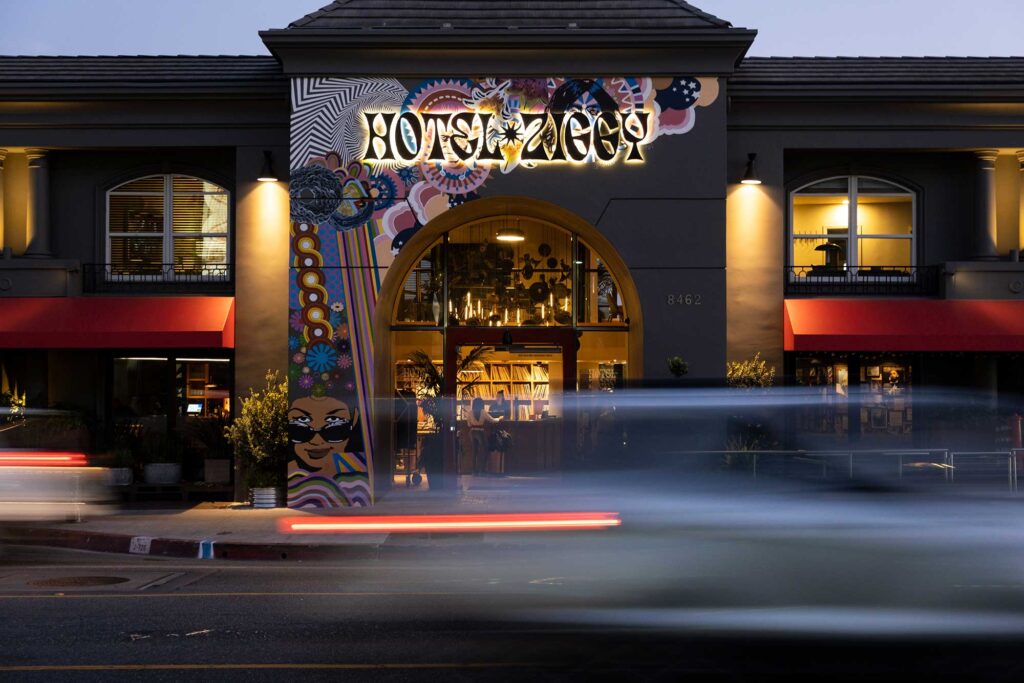 A SPOOOOOOKY COSTUME PARTY
October 7, 2023
Hotel Ziggy, 8462 W. Sunset Blvd., West Hollywood, CA 90069
There are costume parties, and there are Bodies & Beats costume parties, which mix pro-level body painting, blacklights and DJs for a night like no other. Hosted by the always-buzzing Hotel Ziggy, this party will feature danceable beats by DJs Liquorbox and MFatale into the wee hours. All you need to bring is yourself (and an ID to prove you're 21+) and let Bodies & Beats' artists transform you into a moving, glowing "werk" of art. More info.
Hump Queer Middle Eastern Halloween Party
October 18, 2023
Micky's West Hollywood, 8857 Santa Monica Blvd, West Hollywood, CA 90069
Don your best Jack Sparrow costume for Hump, the monthly Middle Eastern Night at Micky's, which goes "Pirates of the Mediterranean" for this pre-Halloween celebration. In addition to electrifying beats by C:3, there will be a belly dance show by the amazing Sababa Dance crew. Free before 10:30 p.m., then $5 cover. Get your tickets in advance, as guestlist passes are limited.
Whatever Happened to Baby Jane? Live Parody Reading Starring Bruce Vilanch and Sam Pancake
October 25, 2023
Micky's West Hollywood, 8857 Santa Monica Blvd, West Hollywood, CA 90069
You do not want to miss this absurd send-up of the 1962 camp-horror classic starring Bette Davis and Joan Crawford, presented by Micky's and Celebration Theater. Comedy legend and two-time Emmy Award winner Bruce Vilanch steps into the deliciously twisted role of Baby Jane Hudson, while actor Sam Pancake plays her long-tormented sister Blanche. This one-night-only event is also a fundraiser for Celebration Theater, SoCal's longest-running LGBTQIA+ theater.
Get your tickets early for the best seats and pricing, starting at $15 for general admission and $20 for reserved seats. More info.
Trick or Drink Hollywood Bar Crawl
October 27–31, 2023
Participating bars on the Sunset Strip
Presented by Barcrawlerz, this event gives you access to Halloween drink specials all weekend long, with no cover at participating bars on the Sunset Strip, including The Den on Sunset, Hotel Ziggy, Rainbow Bar & Grill and the Trocadero. Register at The Den on Sunset to get your wristband, then let the creepy crawling begin. More info.
The Hustle: A Classic Disco Halloween
October 27, 2023
Skybar at Mondrian, 8440 Sunset Blvd., West Hollywood, CA 90069
Stock up on glitter and start practicing your '70s dance moves now, because the dance floor is sure to be fierce at Skybar's annual Halloween disco. Come live out all your Boogie Nights fantasies, inspired by the music of Donna Summer, Chic, Lipps Inc., Rick James, Chaka Khan and many more. Oversized glasses, hot pants and platform boots are not only encouraged, they're practically required.
Tickets range from $20 to $2,000 for a VIP couch table with bottle service for 10 people. 21+. More info.
FRIGHT NIGHT
October 28, 2023
Skybar at Mondrian, 8440 Sunset Blvd, West Hollywood, CA 90069
If disco's not quite scary enough (or perhaps too scary?), then head to Skybar the Saturday before Halloween for classic chills and thrills at FRIGHT NIGHT. Dress up to impress and hit the floor for your favorite haunted hits at this party that promises to be equal parts spooky and sexy. See ticket prices and experiences here.
A Nightmare on '80s Street
October 28, 2023
Whisky A Go Go, 8901 W. Sunset Blvd., West Hollywood CA 90069
Jason or Freddy? Chuckie or little Carol Ann from Poltergeist? It's tough to choose, but you'll get a little bit of everything at this spooktacular '80s tribute night. Bands including Max Muscato, Matchhouse, The Wong Quadruplets, The Ne'er-Do-Wells, Until the Sun and Mitchell will perform killer '80s jams from every genre. More info.
Retro Hollywood Halloween at La Boheme
October 28, 2023
La Boheme, 8400 Santa Monica Blvd., West Hollywood, CA 90069
The ghosts of Hollywood's past are always present in West Hollywood, and especially on Halloween. If you've ever dreamed of being a silent film vamp à la Clara Bow, a clown like Charlie Chaplin or Buster Keaton, a '40s femme fatale like Lauren Bacall, a matinee idol like Clark Gable, or a bombshell like Marilyn Monroe — this is your night. Beginning at 7:30 p.m., La Boheme will host live music, Belle de Nuit burlesque shows and a costume competition with prizes. The dance floor opens at 10 p.m. with music by DJ Loren. Reservations highly recommended. More info.
Halloween Costume Party Night at the Rainbow
Sunday, October 29, 2023
Rainbow Bar & Grill, 9015 Sunset Blvd., West Hollywood, CA 90069
A favorite hangout of the late Motörhead vocalist Lenny Kilmister, whose life-size statue now presides over the back patio, the Rainbow has seen its fair share of ghoulish and garish outfits over the years. Alice Cooper, John Lennon and other members of the so-called "Hollywood Vampires" have also graced the Rainbow with their iconic fashions. So it goes without saying that the bar's annual Halloween costume party is a big draw. Enjoy drink specials, prizes and giveaways, culminating in the costume contest at midnight. More info.
Fast Times: Dressed to Kill (KISS Tribute)
October 30, 2023
Whisky A Go Go, 8901 W. Sunset Blvd., West Hollywood CA 90069
For those who want to rock 'n roll all night (and party every day): Fast Times, the Whisky's weekly '80s night, gets a hair-metal makeover with Dressed to Kill, a tribute to KISS. Experience the songs, the theatrics, the hairspray and, of course, the face paint. All ages. More info.
West Hollywood Halloween Carnaval
October 31, 2023, 6–11 p.m.
Santa Monica Boulevard between N. Doheny Dr. and N. La Cienega Dr.
The one, the only, West Hollywood Halloween Carnaval is BACK with a vengeance after a two-year hiatus. That's a lot of pent-up Halloween energy, so expect hundreds of thousands of costumed revelers to pack a one-mile stretch of Santa Monica Boulevard on Halloween night. It's free to attend, but bars and clubs along Santa Monica will be offering plenty of drink specials, live music and more. You can also expect some of the most creative and elaborate costumes you've ever seen — ranging from barely there to over-the-top. What else would you expect from Los Angeles' biggest Halloween party?
Troubadour Halloween Party
October 31, 2023
Troubadour, 9081 Santa Monica Blvd., West Hollywood, CA 90069
Pop into this Santa Monica Boulevard institution during the Halloween Carnaval for a party featuring DJ Brown Mamba on its legendary stage. Doors open at 7 p.m., 21 and over free.
Cirque Du Fright at La Boheme
October 31, 2023
La Boheme, 8400 Santa Monica Blvd., West Hollywood, CA 90069
For the 17th year, French Tuesdays is celebrating Halloween at La Boheme with Cirque du Fright, a spectacle of live music by DJ Marco and a performance by Cirque Sanity's aerialist, Tina Phoenix. Costumes are mandatory, so dress to impress and expect a night of endless surprises. Dinner available all night with table service. Early bird tickets start at $18, and rise as the event nears.
Halloween at Harriet's
October 31, 2023
Harriet's Rooftop, 8490 Sunset Blvd., West Hollywood, CA 90069
On Halloween night, Harriet's Rooftop transforms into a fantastical haunted forest. What will you find lurking behind the trees? For one, scary-delicious Halloween cocktails and a roster of talented DJs spinning spooky sets into the wee hours. Come dress to the 9s, because you know everyone else will be! Reservations encouraged. More info.
SUR Halloween Masquerade
October 31, 2023
SUR Restaurant & Lounge, 606-614 N Robertson Blvd., West Hollywood, CA 90069
A hop, skip and jump from the Halloween Carnaval action on Santa Monica Boulevard, SUR will be hosting its own costume party beginning at 8 p.m. on Halloween night. Hosted by Vanderpump Rules cast member Israel Isaac, the Halloween Masquerade features "bloody scary" cocktails and sounds by Chris Maragakis. Don your most fabulous mask and creative costume for a ball to remember beneath SUR's glittering chandeliers. Contact the restaurant to reserve your spot.